The bakery & cereals market in Singapore had total revenues of $730.4m in 2019, and it is still growing. To help shore up the bakery industry, there are hundreds of dough divider suppliers and manufacturers spread out across Asia.
Finding the best dough divider supplier is what makes your bakery stand out among your fierce rivals. However, this could be complicated. To help you out, the following are some of the leading dough divider suppliers and manufacturers in Singapore.

1. TRUTEC
Location: 470 North Bridge Road, #5-12 Bugis Cube, Singapore (188735)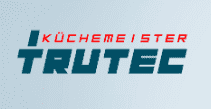 Main Products:
●Planetary mixer, spiral mixer, automatic dough divider rounder, dough sheeter, humidifier, deck oven, rack oven, cake slicer, baguette moulder, proofer, bread slicer, convection oven, continuous rounder.
About the Company:
Trutec is a visionary manufacturer of commercial and industrial bakery equipment. They are capable of realizing customers' wishes, finding the most sustainable equipment and customizing exclusive solutions.
Their truBake brand adopts cutting-edge technology to develop flexible and practical baking machines. After years of observing the bakery industry operation, the company is capable of manufacturing a full range of bakery equipment of high performance and quality, including dough mixer, dough divide, dough moulder, dough sheeter, retarder proofer, ovens, etc.
About the Dough Divider:

TruTeck has automatic, electric, hydraulic and semi-automatic dough divider. The dough division range is 30-100g and 100-800g.

2. Taibo Machine
Location: Zhujie Industrial Park, Mizhou Street, Zhucheng, Shandong, China

Main Products:
●Dough Mixer
●Dough Divider
●Dough Rounder
●Conical dough rounder, small dough rounder
About the Company:
Taibo Machine has proven itself to be a professional and reliable manufacturer of bakery equipment. The company is based Shandong, part of East China, where logistics are convenient to the markets worldwide. Over the past 10 years, they have offered equipment and solutions to customers from 106 countries. From single machines to entire dough handling lines, from bakers to enterprises, they are capable of identifying your needs and achieve them at reasonable price. Inspired by the enterprise values of innovation, dedication and professionalism, they become stronger and ready to meet diverse customer requirements.
About the Dough Divider: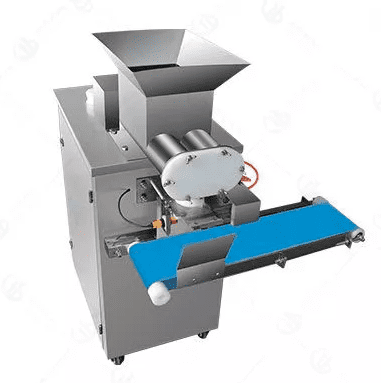 You can find Taibo's ingenuity in every facet of their newly improved volumetric automatic dough divider machine. The weight range of this dough dividing machine is 2-800g. Compared with divider of other brands, this is a wide range, suitable for producing various products. It is applicable to dough of widely ranged water content. The hydration ranges from 50% to 70%. This means it is also suited for sweet been paste, tamarind paste, dates paste and other stuff like that. The machine maintains high accuracy while being this versatile. The weight tolerance is ±1g~1%. The whole dough divider is made of SUS304 Food Grade Stainless Steel, which is easy to clean and maintain.

3. Femac
Location: 12 Tagore Lane Singapore 787474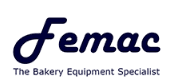 Main Products:
●Planetary mixer, dual mixer, dough divider and rounder, dough moulder, butter dough press, pizza flattener, sheeter, encrusting machine, confectionery depositor, frozen cookie dough cutter, flour sieve.
About the Company:
Femac is a leading supplier of quality bakery equipment, kitchen equipment and food processing equipment. They also have a comprehensive range of spare parts. The company keeps in contact with bakers to offer practical expertise according to customers' requirements.
The company today has operations in Singapore and Malaysia, offering sales, spare parts and service to customers. They also have service centres in Indonesia & Thailand to cater to the service needs of customers.
About the Dough Divider:

The company supplies Ballmatic, Dynasty, Friul, Daub, Ram and Sinmag dough divider and rounders. I've introduced these manufacturers in our last few blogs, please click to read more. The picture above only shows 6 dividers that Femac supplies. If you'd like to check all their dough dividers, please check their website, where there are more details about every machine.

4. ADDAX
Location: 2 Gambas Crescent #03-11/12 Nordcom II Singapore 757044
Main Products:
●Dough sheeter, depositor, divider rounder, bread plant lines, rotary ovens, deck ovens, convection ovens, pizza ovens, spiral mixers, planetary mixers, aerator mixers, bowl lifter, retarder proofers, blast freezer, vacuum cooler, bread slicing machine.
About the Company:
Addax Bake Automatic was incorporated in Singapore in 1996. Ever since its foundation, it has been supplying reliable and consistent bakery equipment to customers. The company specializes in the automatic production of pastries, croissants, pizzas, breads and roti. Their customers range from small single bakeries to large industrial corporations.
The company pays undivided attention to the quality service. In addition to equipment that increases the bake productivity, their service engineers and factory also provide technical support when needed.
About the Dough Divider: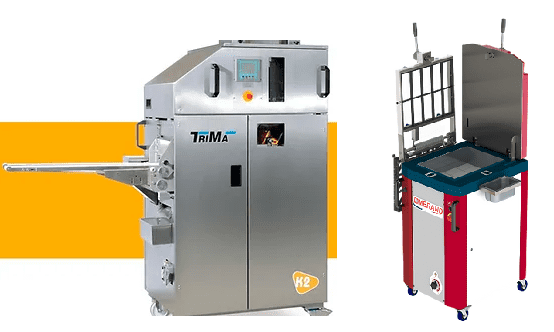 Addax supplies Trima and Merand Dough Divider. All these machines are simple and easy to operate, requiring little cleaning.

5. Yang Equipment
Location: AMK Tech Link #02-07/08 20 Ang Mo Kio Industrial Park 2A Singapore 567761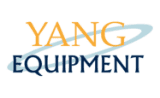 Main Products:
●Divider rounder, mixer, moulder, proofer, sheeter slicer, ovens, showcase display, chiller freezer, encrusting machine, cake cutting slicer, waffle depositor.
About the Company:
Yang Equipment supplies a wide assortment of bakery equipment sourcing from Italy, Germany and Taiwan. Their products include electrical and convection ovens, dough and cake mixers, mini molders, bun dividers and bread slicers. They can also source the ideal products specially for you to meet your needs. They are proud of providing competitive prices and first-class after-sales service for all their customers.
About the Dough Divider:
Below are 5 typical dough dividers that Yang Equipment supplies: divider rounder, continuous divider, electrical dough divider and hydraulic dough divider. All of them are designed to save manpower and reduce operating time.

6. Spring Green Evolution
Location: 66 Tannery Lane 04-09, S347805
Main Products:
●Stand mixer, bread proofer, baking oven, baking tray, dough divider.
About the Company:
Spring Green Evolution is based in Singapore, dedicated to supplying food processing and packaging machine. They have showrooms in Singapore, Thailand and Vietnam.
They aim to save cost and increase productivity for thousands of companies in Singapore by automatic equipment. Automatic production copes with risky, dreary or dirty jobs, thus workers can concentrate on more productive and higher-value work.
Ever since its establishment, the company has served more than 15,000 customers from Singapore, Thailand, Vietnam, Philippine, Malaysia and Indonesia.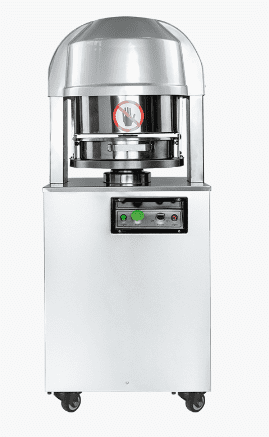 About the Dough Divider:
SGE dough dividing machine is suited for processing various breads like danish, apple pie, bun, donut and so on. The machine divide dough into 36 pieces per time, each piece weighing 30 – 180g. The machine is made of 304 Stainless Steel, sanitary and durable. It is mounted on wheels, easy to move around.



Conclusion
If you are looking for more dough divider suppliers and manufacturer, check out the following articles:
●How to Choose Your Dough Divider
●What Are the Four Types of Dough Divider?
●Best 5 Dough Divider Machine Manufacturers in India 2022