A bundle of researches has showed that the economy of India has completely recovered to the pre-pandemic level. In May 2022, the Index of Industrial Production (IIP) stood at 137.7 driven by mining, manufacturing and electricity sectors. The bakery equipment industry also plays an important part in its economy. If you are looking for a dough divider manufacturer in India, we've made a list for you.

1. Pritul Machines
Location: F4,5 & O-1, U.P.S.I.D.C. Begrajpur Industrial Area (N.H. 58, On Delhi-Dehradun National Highway), Muzaffarnagar- 251203, Uttar Pradesh, India
Main Products:

●Bakery oven, spiral mixer, bread slicer, planetary mixer, dough divider, cookie drop machines, sheeter machines, dough moulder, proofer chamber, rusk panning machines, paper cup making machine, rounder machine, dough container, dough making machine.
About the Company:
Pritul machines, established in 1986, has become the foremost manufacturer and exporter of Bread Slicer, Bakery Oven, Spiral Mixer, Flour Shifter, Dough Dividers, Planetary Mixer, Proofer Chamber, Rounder Machine and Donut Making Machine. They mainly export bakery equipment to Cameroon, Ethiopia, Uganda, Bangladesh and Nepal. Their CEO, Pritul Jain, has led the company to the its astonishing position in the industry.
About the Dough Divider: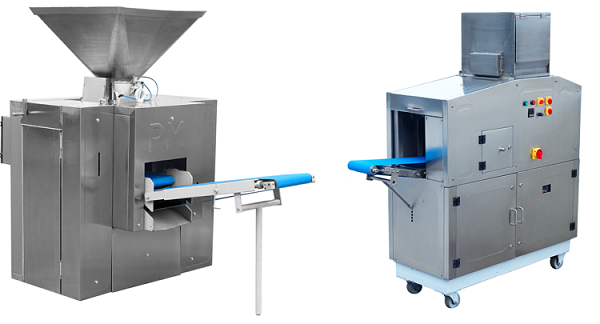 Pritul Machines produces 4p, 2p, 3p, 5p, 1p dough dividers and bun divider. The volumetric dough divider machines process without damaging the dough, just like slicing with hand. Surfaces in contact with the dough and its hood is made of stainless steel. Total dough dividing range of the four volumetric dough dividing machines is 90-800g. If you'd like to know more, please check their website.

2. Taibo Machine
Location: Zhujie Industrial Park, Mizhou Street, Zhucheng, Shandong, China
Main Products:

●Dough Mixer
●Dough Divider
●Dough Rounder
●Conical dough rounder, compact dough rounder
About the Company:
Based in Shandong, part of East China, Taibo machine boasts convenient transportation at home and abroad. Their 10 years of experience in manufacturing bakery equipment and exporting have complemented each other, making them the leading manufacturer of dough divider, dough rounder and other baking machines worldwide. From single machines to entire dough handing lines, from agents to enterprises, they have successfully cooperated with customers from 106 countries. Inspired by the enterprise values of innovation, dedication and professionalism, they become stronger and ready to meet diverse customer requirements.
About the Dough Divider:
Compared with Pritul Machines's dough divider, Taibos' is completely made of food grade SUS304 stainless steel, which may result in differences in price and durability. It divides 2-800g and the output is 25-80 pcs/min. It is applicable to dough of widely ranged water content. The hydration ranges from 50% to 70%. What's more, it is more than a dough divider. It can handle tamarind paste, sweet been paste, date paste and other materials as long as they have the right texture and hydration. The dough ball dividing machine features high accuracy. The weight tolerance is ±1g~1%.

3. A.G. Industries
Location: H-240, Sector-2, DSIIDC Industrial Area Bawana, New Delhi-110039 India.
Main Products:
●Flour sifter, cake mixer, dough divider, moulder, dough sheeter, swing tray oven, rotary rack oven, high speed slicer.
About the Company:
Established in 1994, AG Industries has found their way into manufacturing world-class bakery equipment and tunnel bread cooling system. With its more than 20 years of accumulative expertise, they now boast cutting-edge technology, personalized services, exceptional quality of components, qualified and skilled human resources to produce astoundingly carved & designed bakery plants and machinery.
The company is noted for its after sales customer service. They are committed to offering industrial baking equipment and logistics, consultancy services. Their responsibility always go the extra mile. From the largest equipment to the smallest spare parts, they are competent in providing one stop solution for all the bakery equipments related concerns.
About the Dough Divider:
Dough Divider manufactured by AG Industries ensures precise dividing and high durability. It is made of stainless steel and is equipped with two or three standard dividing pistons. You can fill load the dough into the hopper either manually or automatically.

4. Ratna Machines
Location: Plot No-11/27, Railway Station Road, Yadav Nagar, Samaipur, Delhi – 110042, India
Main Products:
●Dough divider, industrial hoist, tray type bread cooling tunnel, final proofer, swing tray oven, depanner machine, flour sifter, bakery machinery, bread plant machinery, turntable machine.
About the Company:
Ratna Machines Private Limited was founded in the pursuit of the mission of becoming a leading manufacturer of a full range of industrial bakery and food processing equipment. With their massive experience of nearly two decades, they are competent to design and produce a wide assortment of bakery equipment. Customers are always at the center of their heart.
About the Dough Divider:
Ratna's dough divider is also made of stainless steel. The capacity of the machine is 16kg, thus it is suited for small batch production. For more information, please check their website.



5. SANDHU MECHANICAL WORKS
Location: KH NO 111/22/1, MUNDKA INDUSTRIAL AREA NEAR INDIAN GAS GODWAN, BAKKARWALA ROAD New Delhi – 110041, India
Main Products:
●Bread baking plant, divider machine, swing tray baking oven, moulder machine, high speed mixer, dough bowl hoist, rotary rack oven, depanner machine, planetary mixer, high speed bread slicer, spiral mixer, rusk making plant, bakery oven, dough divider, rusk machine, biscuit making machine, bread making machine, dough shifter, final proofer.
About the Company:
Sandhu Mechanical Works has an enormous amount of knowledge to provide customers with the most appropriate products specific to their application at competitive prices. They are one of the noted manufacturers, traders and suppliers of Bakery Machines in the industry.
They improve the quality management system and manufacturing techniques continuously to meet their customer's requirements. Their products boasts high levels of quality and effectiveness.
About the Dough Divider:
Sandhu has 2 pocket, 3pocket, 4 pocket, 5 pocket and 8 pocket dough dividers. The raw material of them is stainless steel. The flour capacity is 25kg per hour. For more information, please check their website.  

Conclusion
Need more information about dough divider and dough dividing equipment manufacturers worldwide? Check the links below.
●What Are the Four Types of Dough Divider?
●The Most Comprehensive Purchasing Guide to Dough Dividers in 2022
●2022: Best 5 Bakery Equipment Suppliers in USA