Latin American culture is a mixture of many influences. The bakery and bakery equipment industry strives to produce diverse and versatile products to meet the varying market needs.
If you are having trouble finding the best bakery equipment manufacturers in the Latin America, then you are in the right place. Here, I'll introduce 5 manufacturers and their leading products with my insights into bakery equipment, especially dough divider and dough rounders.

1. Ferneto
Location: Zona Industrial de Vagos, Lt. 101, 3840-385 Vagos-Portugal
Company Type: Manufacturer
Year Founded: 1986
Main Products:
●Spiral mixer, planetary mixer, dough sheeter, dough divider, automatic divider rounder, pie and tart lines, cutting table, baguette moulder and dough brake, bread slicer, cooling equipment, marine equipment.
About the Company:
Carlos Neto, founder of Ferneto, is a bakery technician acquainted with this industry. At first, the company was founded to offer raw materials and ingredients to local bakeries. It took Carlos four years to realize the real difficulties and demands of the bakery industry. Since then, he decided to invest in manufacturing bakery equipment and solutions.
Today, Ferneto has become a multinational company, providing reliable, functional and profitable solutions to every customer. The company has a production area of 18000㎡ and more than 200 employees. Their focus on quality and sustained growth has complemented each other, enabling them to keep learning and evolving.
About the Ferneto Dough Divider: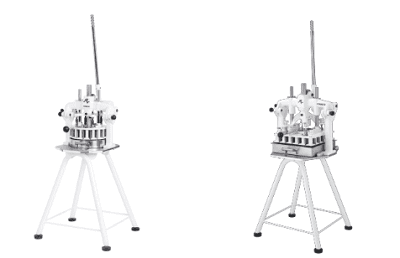 Ferneto produces manual divider and manual square divider. The first divider has 2 models, with a maximum capacity of 3kg and 8kg, cutting dough into 8, 15, 20 and 30 divisions.
The second divider cuts dough into square or rectangular shapes from 40mm to 400mm. It is designed for fermented doughs and highly dehydrated doughs like chapata.
About the Ferneto Dough Divider Rounder: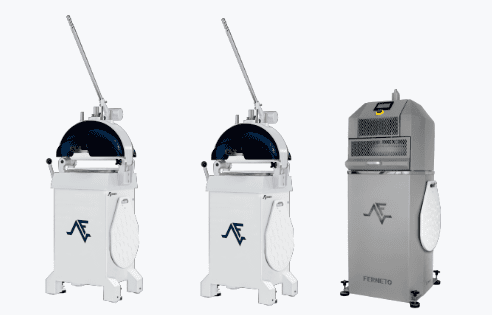 Ferneto produces semi-automatic and automatic divider rounders. The first cuts dough into 15, 22 and 30 divisions, the second, 15, 22, 30, 36 and 54 divisions. The maximum capacity is 365kg. It is quite simple to wash and remove the press. Furthermore, these divider rounders require little washing and cleaning, making it an essential equipment in the manufacture of bakery and pastry.
The automatic divider rounder Ferneto is a guarantee of productivity, efficiency and quality. Due to the removable head, this machine is capable of different weights and winding solutions.

2. Taibo Machine
Location: Zhujie Industrial Park, Mizhou Street, Zhucheng, Shandong, China

Company Type: Manufacturer
Year Founded: 2013
The Number of Employees: 20-30
Main Products:
●Dough Mixer
●Dough Divider
●Dough Rounder
●Conical dough rounder, compact dough rounder
About the Company:
Well obviously, Taibo is not based in Latin America. It is a 100% Chinese company. Let me tell you why I put it on the list. Taibo Machine has been striving for the highest quality of the food processing machines and bakery equipment they've manufactured. Their 10 years of experience in manufacturing and exporting enables them to provide up-to-the-minute dough divider, dough rounder and other baking machines worldwide.
Up to now, Taibo has provided personalized dough processing solutions for customers from 106 countries, among which Australia boasts many locations we are exporting to. You may find your favorite local pizzeria or bakery using Taibo dough divider and rounder.
About the Taibo Volumetric Dough Divider: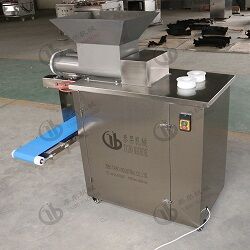 Taibo designs and produces MF3 dough dividers. There are 3 models available, dividing 2-250g, 250-800g and 2-800g. The double screw propeller and precise photoelectric sensor make it suitable for different dough, recipes and operators. The dough hydration is widely ranged from 50% to 70%. The error is ±1g to 1%.
The divider can be coupled to dough rounder for more efficient and consistent production.

About the Taibo Dough Rounder: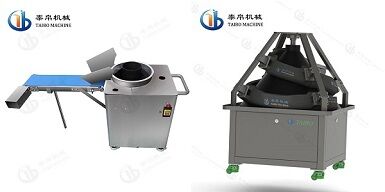 Taibo has TBGR3 compact dough rounder and TBMR3 conical dough rounder. The applicable weight range of them is 30-300g and 20-1100g. Both of these dough dividers are suited to sticky dough, that is dough of high hydration. You can also adjust the rotation speed of TMGR3 to round of of different hydration.
Due to the Teflon coated on the spiral rounding track, dough will not stick to the machine, thereby enabling easy operation, cleaning and maintenance.

3. Colbake
Location: Av. Enrique Gimeno 100 12006, Castellón, Spain

Company Type: Manufacturer
Year Founded: 1985
Main Products:
●Volumetric divider, volumetric divider for fermented dough, conic rounder, band rounder, cylindrical rounder, intermediate proofer, universal moulder, automatic panning, production line.
About the Company:
The company has been manufacturing and developing equipment for bakery industry since 1985. Vicente Colom, founding partner of one of the leading Spanish manufacturers of bakery machinery, decided in 2017, to launch a new brand: COLBAKE. COLBAKE spare no efforts to satisfying the increasing demands while respecting the values and experience acquired during these years.
Today the company boasts 30 years of experience and a young team with engineering, management and business capabilities.
About the Colbake Volumetric Dough Divider:

Colbake has 4 volumetric dough dividers. The first is the strongest, ready to work 24 hours a day. The maximum weighing error for unfermented fresh dough is 2% and the minimum water content is 50%.
The second divider is for fermented dough. The maximum weighing error is 4%. For all volumetric dough dividers, it is hard to control the weighing precision of fermented dough due to its structural changes. The maximum production is 1100 pieces per hour.
The third is volumetric divider with rounder for bread dough. The maximum weighing error is 2%. The applicable minimum content is 50%.
The last one is volumetric divider without rounder with maximum weighing error of 2% and applicable water content of 50%. If you'd like to know more, please check their website.
About the Colbake Dough Rounder:

The first conic rounder is suitable for dough pieces of 100 to 2000g with water content of 50% to 65%. The channels are coated with non-stick Teflon. There is an adjustable flour sifter at the exit.
The belt rounder is designed for soft doughs, with water content of 65% to 90%. It is suitable for dough pieces of 70g to 2200g. You can adjust the relative speed with the frequency converter to get desired degree of rounding. Adjust the angle between both bands to adjust the size of the pieces to be rounded.
The cylindrical rounder is applicable to dough pieces of 15g to 800g with water content of 53% to 65%.

4. Ova Bakery Projects
Location: POL. IND. PUIG VELL – P. n°1 08510 RODA DE TER BARCELONA (Spain)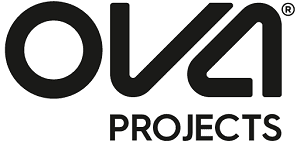 Company Type: Manufacturer
Year Founded: 2008
Main Products:
●Injectors, dispensers, depositors, sprayers, turnkey solutions
About the Company:
The company was founded in 2008 and the Ova Projects was launched in 2015.
Initially, the company aimed to supply third parties individual line components for the baking and pastry industry.
After launching Ova Projects, the company then specializes in promoting a wide variety of machines.
Now, the Ova Projects has doubled the floor space of the factory and will continue to be developing new projects to satisfy the customers needs with dedication.
In terms of the product range, Ova Projects is significantly different from other manufacturers I've introduced in this list. They specialize in dosing, filling, injecting and flavouring equipment. I have to admit that I'm not familiar with these machines. Therefore, if you're interested in injectors, dispensers or depositors, please check their website.

5. CIBERPAN
Location: Colonia Els Lladres 4-6 12550, Almazora — Castellón (SPAIN)

Company Type: Manufacturer
Year Founded: More than 30 years
Main Products:
●Dividers, moulders, proofers, rounders, automatic panning machine
About the Company:
CIBERPAN has been established for more than 30 years. The company manufacturers state-of-art bakery equipment that perfectly suits customers' needs. The company is able to compete in a global market and successfully export their products worldwide.
About the CIBERPAN Dough Divider: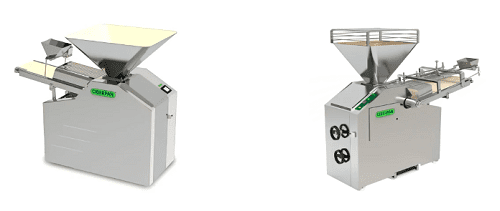 CIBERPAN produces two volumetric dough dividers. The first one is especially suitable for fermented dough. It divides the dough without taking the gas inside, just like they are split by hand or with a hydraulic dough divider. The total weight range is 50g-1500.
The second is the strongest one. It features multiple pistons and is capable of working 24 hours a day. For each cycle, it can divide 2, 3, 4, or 5 dough pieces at a time, leading to higher production and efficiency. The total weight range for fresh dough without fermenting is 15g to 1700g.
About the CIBERPAN Dough Rounder: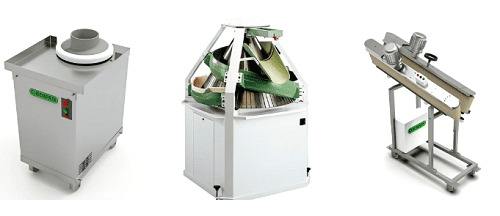 Just like Colbake, CIBERPAN produces 3 types of dough rounders.
The first is tubular rounder, which is also called cylindrical rounder. It is suitable for bread and pizza dough pieces weighing from 30g to 280g and 200g to 800g.
The second is conical rounder, suitable for pieces from 100 up to 2000g. The dough hydration should be 50% to 65%. This model comes with a flour duster.
The third, belt rounder is applicable to round soft dough balls with hydration from 60% to 90%. The angel and speed are adjustable to obtain different degrees of rounding.

Conclusion
If you'd like to know more about bakery equipment and manufacturers, check out the following articles:
●How to Choose Your Dough Divider
●Everything You Need to Know About Dough Rounder in 2022
●Top 8 Dough Divider Manufacturers in Italy
●Top 6 Dough Rounder Manufacturers in US