Automatic dough divider rounder is a necessity in bakery and baked food factories. It is used to produce breads, pizza, chapati, naan, flatbread and so on.
Dough dividing machine come in many shapes, sizes, and capacity. Getting the right one for your business is never a piece of cake. It can also be difficult to find the right dough divider supplier and manufacturer.
Below is a carefully compiled list of the best suppliers of dough divider in the UK.

1. Oddy
Location: Fountain Works, Child Lane, Roberttown, Liversedge, West Yorkshire, WF15 7PH
Main Products:
●Bread Roll Plant
●Bread roll line, bread roll moulding table, bread roll panner, cross conveyor, intermediate proofer, dough divider rounder, plait machine, wetter setter.
About the Company:
Oddy is the only manufacturer of dough divider, dough rounder and roll plants in Britain. Their products are sold under the name of Novatek. Their customers range from small bakeries to multinationals both in the UK and abroad. The Oddy dough divider was the first to implement the use of hydraulics. This unique feature enables variable pressure to suit different dough consistencies during cutting of the dough and it is still used in the Novatek range of dough dividers and rounders today.
The company has been in the pursuit of innovation and development ever since its establishment. In 2000 they won the Wholesale Food Equipment category at the Food and Bake Exhibition for the Oddy Plait machine.
In 2003 the intellectual property of Oddy Limited was acquired by Newsmith Stainless Limited. Newsmith is a family owned business formed in 1969 and has become one of the world's leading manufacturers of a range of washing, handling, conveying and auxiliary equipment for the food and non-food industries.
About the Dough Divider: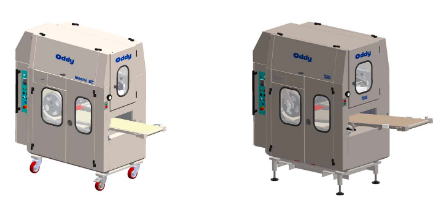 Novatek Dough Divider Rounder is applicable to a wide variety of dough, gently processing without using divider oil. This results in lower running costs and easy cleaning. The total weight range of these two dividing machines is 10g-208g. With optional change parts, it can divide dough into up to 500g. Both of these 2 machines feature low noise level.

2. Taibo Machine
Location: Zhujie Industrial Park, Mizhou Street, Zhucheng, Shandong, China

Main Products:
●Dough Mixer
●Dough Divider
●Dough Rounder
●Conical dough rounder, compact dough rounder
About the Company:
Based in Shandong, part of East China, Taibo machine boasts convenient transportation at home and abroad. Their 10 years of experience in manufacturing bakery equipment and exporting have complemented each other, making them the leading manufacturer of dough divider, dough rounder and other baking machines worldwide. From single machines to entire dough handing lines, from agents to enterprises, they have successfully cooperated with customers from 106 countries. Inspired by the enterprise values of innovation, dedication and professionalism, they become stronger and ready to meet diverse customer requirements.
About the Dough Divider:
Taibo's ingenuity can be found in every facet of their newly developed volumetric dough divider. This dough dividing machine is made of SUS304 Food Grade Stainless Steel. It divides 2-800g and the output is 25-80 pcs/min. It is applicable to dough of widely ranged water content. The hydration ranges from 50% to 70%. The dough dividing machine features high accuracy. The weight tolerance is ±1g~1%.

3. Baker Perkins
Location: Manor Drive, Paston Parkway, Peterborough, PE4 7AP UK
Main Products:
●Laboratory mixer, high speed mixer, dough divider, conical rounder, moulder, dough prover, dough resting system.
About the Company:
Baker Perkins, part of Schenck Process Group, is one of the leading food processing equipment suppliers and manufacturers. Their technology is integral to the success of many of the world's leading food manufacturers across the bread, biscuit, confectionery, extruded foods and breakfast cereal sectors.
They pay thorough attention to every facet of the process, which leads to high efficiency, accurate scaling weights and visibly superior product quality.
With their over 100 years of engineering and process expertise and excellence, they remain at the forefront of the industry and their customers maintain their competitive edge.
About the Dough Divider:
Baker Perkins Dough Dividers are durable, easy to operate and maintain. They are capable of handling small breads and pizza to large loaves with their wide range of combinations of piece weight and output. All Accurist™ dividers are able to maintain an accuracy of 2.5 to 3.5g Standard Deviation on 900g dough pieces over extended production runs.

4. CREEDS
Location: Unit A3, Brunel Gate, Telford Close, Aylesbury, Buckinghamshire HP19 8AR
Main Products:
●Bakery ovens, bread slicers, bun dividers, cutting tables, dough dividers, dough moulders, doughnut fryers, fermentation tanks, flour sifters, dough mixers, pastry sheeters, pie machines, proofing cabinets.
About the Company:
Creeds Direct has more than 50 years of knowledge about supplying bakeries everywhere with high-quality professional equipment and basic baking utensil. They source from well-established manufacturers and pride themselves in stocking only the best in commercial baking equipment.
Creeds boasts a team composed of ex-professional bakers. They are committed to offering expert advice and solution across all of their bakery machinery. Creeds aims to customize every solution to meet individual requirements.
About the Dough Divider:
Creeds supplies a full assortment of dough dividers, including manual, semi-automatic, automatic, hydraulic and volumetric dough divider. These dividers come from various professional brands: Ferneto, Daub, Vitella, etc. I've introduced these manufacturers in our last few blogs. If interested, click to read more. Whether you are in need of small or heavy-duty dough dividing equipment, Creeds got you covered.

5. Euromix (UK) LTD
Location: 56 Alexandra road, Enfield, EN3 7EH
Main Products:
●Dough mixers, formers, provers, dough divider, dough rounders, baking ovens, bread slicers, ancillary equipment.
About the Company:
Euromix, formerly known as Artofex engineering ltd, is a supplier of new and used bakery equipment based in London.
They source from renowned brands like Artofex, Erika Record, Delta, Ramalhos and so on. In addition to selling new and used bakery equipment, they also refurbish and over haul customers' machines at a fraction of the cost of a new machine. They also stock a broad spectrum of used bakery equipment such as vertical mixers, spiral mixers, bread and roll dividers, pie machines, pastry rollers and electric deck ovens.
About the Dough Divider:
Euromix supplies Erika Record, Jeremy and Zelaieta dough divider, covering manual and automatic dough dividing production. There is detailed description about the Erika Record dough divider on the website. If interested, click to read more.

6. Brook Food&Bakery Equipment
Location: Roughmoor Williton Industrial Estate, The New Works, Taunton TA4 4RF UK
Main Products:
●Dough Handling
●Bread roll moulder, hydraulic divider, volumetric divider, bread moulder, conical moulder.
About the Company:
Brook Food and Bakery Equipment has passionate commitment to Bakery industry. You can feel the enthusiasm when working with them. The company has been spearheading the equipment supply industry in UK since 1994. They supply new machinery from world leading manufacturers and used machinery.
The company boasts a team of people with varied skills like former bakers, which has hands on experience with various bakery equipment. They are capable of offering one stop solutions to customers.
About the Dough Divider:


Brook Food supplies Turri, Polin and RAM dough divider. These machines enable a huge choice of weight ranges. The overall weight range of dough dividers available is 12-1600g. There are various options open to customers: weight control options, access to semi-automatic or automatic controls, etc. For more detailed introduction, please visit their website.

7. White's Foodservice Equipment
Location: Unit 8 Padgets Lane South Moons Moat Redditch Worcestershire B98 0RA
Main Products:
●Rotating deck oven, pizza conveyor oven, oven capture hoods, dough mixers, dough rounders, dough divider rounder, automatic pizza stretcher, cold and heated dough press, pizza auto-saucing machine.
About the Company:
White's Foodservice Equipment has extensive experience of the catering industry. They are capable of identifying which piece of equipment is ideal for you and offering high quality delivery and after-sales care. From a single pizza pan to a full oven installation, they strive to ensure you get the help you need with a 5 star service.
They also stock a wide assortment of accessories including pizza peel, dough boxes, pizza pans or anything else. Their friendly and knowledgeable team offers you a full, unbiased advisory session.
About the Dough Divider:
The company supplies Vitella Dough Divider Rounder. This series is available in manual, semi-auto and automatic dough divider rounder.

Conclusion
Dough divider can be found in the corner of every bakery. If you're looking for more dough divider manufacturer and supplier, check out these articles:
●How to Choose Your Dough Divider
●5 Signs You Might Need a Dough Divider
●The Most Comprehensive Purchasing Guide to Dough Dividers in 2022