New Zealand has one of the most globalised economies and depends greatly on international trade. The market size of its bakery product manufacturing industry is $740.2m in 2022 and it's still growing. To cater to this market trend, quality bakery equipment like dough divider, dough rounder and so on are needed.
Several quality dough divider suppliers scatter over this beautiful island country, each with its considerable expertise and experience. It could be hard for you to choose the best dough dividing machine suppliers for your bakery business. To make your business get off to a flying start, here are 6 dough divider supplier that have stood out.

1. Southern Hospitality
Location: WHANGAREI Sample Display Showroom, 9A Commerce Street, Whangārei 0110, New Zealand.
Note: Southern Hospitality has 13 locations all around New Zealand and they are all listed on the website with addresses, phone numbers and managers.
Main Products:
●Bakery Equipment
●Convection ovens, dough divider and moulder, planetary mixer, provers, rack ovens, specialist bakery, spiral mixer.
About the Company:
Established in Dunedin, 1989, Southern Hospitality has become a major player in the catering and hospitality industry, offering a wide assortment of equipment and services.
Their export division supports customers in the pacific island. Their professional design division are dedicated in designing commercial kitchen and public areas in hospitality industry. They also have a stainless steel fabrication business, specializing in supplying benches, bain-maries, etc.
They import from 35 countries and provide everything a commercial kitchen needs, from spoons to heavy duty food preparation equipment.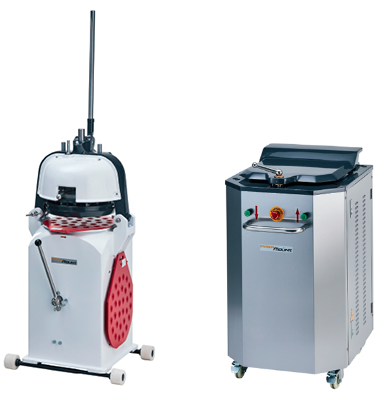 About the Dough Divider:
Southern Hospitality distributes Paramount Rounders and Dividers. The first one is semi-automatic, capable of process 3.6kg dough per operation. It divides dough into 30 pieces of 40-120g. The machine comes with 3 moulding plates. The second one is hydraulic dough divider. It divides dough into 20 pieces, 200-800g each.



2. Taibo Machine
Location: Zhujie Industrial Park, Mizhou Street, Zhucheng, Shandong, China
Main Products:
●Dough Mixer
●Dough Divider
●Dough Rounder
●Conical dough rounder, compact dough rounder
About the Company:
Taibo Machine is located in China. They pride themselves in manufacturing high quality food processing equipment at home and abroad. Over the past 10 years, customers from 106 countries have received their exceptional equipment, thus producing healthy and delicious bakery goods, meat products, etc. Their 10 years of experience in manufacturing bakery equipment and exporting have complemented each other, making them the leading manufacturer of dough divider, dough rounder and other baking machines worldwide. From single machines to entire dough handing lines, from small bakeshop to large food factory, they are capable to create exclusive solution to every customer. Inspired by their enterprise values of innovation, dedication and professionalism, they become stronger and ready to meet diverse customer requirements.
About the Dough Divider:
Taibo's ingenuity can be found in every facet of their newly developed volumetric dough divider. This dough dividing machine is made of SUS304 Food Grade Stainless Steel. It divides 2-800g and the output is 25-80 pcs/min. It is applicable to dough of widely ranged water content. The hydration ranges from 50% to 70%. The dough dividing machine features high accuracy. The weight tolerance is ±1g~1%.


3. Teutonia

Location: 136 Cameron Street, Whangarei New Zealand
Main Products:
●Bakery Equipment
●Spiral mixer, planetary mixer, dough sheeters, dough dividers and rounders, bread slicer.
About the Company:
Ever since its establishment in 1999, Teutonia has been specializing in importing, supplying and servicing customers all over New Zealand with high-quality commercial catering equipment.
Their mission is to provide exceptional service and products at a reasonable price. With their extensive network of distributors and skilled electrical and mechanical engineers, they are always there for your service needs and requirements.
About the Dough Divider:
This manual dough divider is ideally suited for small and medium sized business. It divides dough into 36 pieces of 30-100g per operation.




4. Commercial Food Equipment
Location: Hamilton, New Zealand
Main Products:
●Steam oven, convection oven, electric baking proofer,electric pizza ovens, planetary mixer, spiral mixer, dough sheeter, pizza dough rolling machine, dough divider and rounders, bread slicer, fresh pasta machines, deep fryer.
About the Company:
Commercial Food Equipment Ltd has been involved in the hospitality industry since 2006. They offer food processing equipment, kitchen equipment and dough processing equipment of great quality and excellent value from European and Italy. With their over 15 years of experience in serving kitchen equipment, they are competent to deliver machines throughout New Zealand and offer after sales service in all regions.
Commercial Food Equipment is also a specialist in repairing most commercial kitchen equipment. They are always willing to give helpful and friendly advice.
About the Dough Divider:
The dough divider is the same as Teutonia's. ProMix brand, manual operation, ideal for small to medium-sized business.


5. J.L.Lennard
Location: Unit M, 218 Marua Road, Mt Wellington, Auckland 1060 NZ
Main Products:
●Dough and Pastry Equipment
●Cream whippers, bain marie mix heater, dough sheeter, dough roller, dough moulder, dough divider, dough rounder, dough press, turnover machine.
About the Company:
Founded in 1879, J.L.Lennard has been consistently importing and distributing a multitude of range of products and equipment from world-famous manufacturers in Europe, America and Japan.
J.L. Lennard operates throughout Australia as well as New Zealand and the Pacific Islands, assisting customers in finding the most suitable solution. Your training needs, after sales requirements and maintenance programs will all be well looked after.
About the Dough Divider:
J.L.Lennard distributes Somerset's dough divider. It is ideal for quickly and accurately portioning dough batches. This dough divider is compact enough to fit into a small shop and strong enough to handle commissary style production.
In terms of SOMERSET, we've introduced it and its dough divide rounder before. If interested, click to read more about it.


6. Food Equipment
Location: 1066 Hinemoa Street Rotorua Bay of Plenty 3010 New Zealand

Main Products:
●Pasta and Dough Processing
●Pasta machines, pizza dough rollers, reversible dough sheeters, bread slicer, manual dough divider.
About the Company:
Food Equipment (NZ) Ltd, the oldest company in New Zealand serving the hospitality industry, is founded in 1967.
The company was originally founded as a manufacturing and servicing company. Now, they have successfully transformed into a skilled local trader. The company along with it's team of sub contractors is poised to engage in any challenge put before it.
About the Dough Divider:
Food Equipment also distributes ProMix manual dough divider. It divides dough into 36 pieces of 30-100g.

Conclusion
If you are looking for more about dough divider and dough dividing equipment suppliers, click below to read more.
●How to Choose Your Dough Divider
●The Most Comprehensive Purchasing Guide to Dough Dividers in 2022
●Top Dough Divider Manufacturers in Europe 2022