Dough rounder is one of the most important machines for dough processing and bakery products. Are you looking for the right dough rounder manufacturer for your baking business? Check out our list below!

ProBake
Location: 2057 East Aurora Rd. Unit P Twinsburg, Ohio 44087
Main Products:
•Bakery Equipment
  •Cookie machines, dough mixers and bowl lifts, commercial bakery ovens, proofers and retarders, dough dividers, dough rounders, bread slicers, industrial lines.
•Packaging Equipment
•Bulk Ingredient Systems
•Used Bakery Equipment
About the company:
Just as its name implies, ProBAKE is a professional bakery machine specialist for over 40 years.
Their full line of commercial bakery machine keeps having unequalled quality, ensuring ideal performance and efficiency in customers' bakeries. Their bakery machines and incomparable industry-wide experience will streamline your production and decrease operating costs dramatically. You can rest assured that ProBAKE can deliver the results you require to grow your business. Their goal is to provide their commercial bakery equipment solutions to clients at the lowest possible costs while maintaining only the highest levels of performance and support.
About the dough rounder:

ProBAKE has 3 types of dough rounder: eccentric rounder, divider rounder and conical rounder. Eccentric rounder is the best solution for rounding after proofing or final rounding operations while conical dough rounder is the best option for rounding before proofing or resting. That is because conical dough rounder results in a very well-rounded ball of dough with consistent tension. Divider rounders can be used to divide and round a wide variety of doughs. ProBAKE offers a full line of divider rounder from manual to fully automatic.

Taibo

Location: Zhuxie Industrial Park, Mizhou Street, Zhucheng, Shandong, China
Main Products:
•Dough Mixer
•Volumetric Dough Divider
•Dough Rounder
  •Conical dough rounder, compact dough rounder  
About the company:
Taibo is an experienced manufacturer of bakery machines and other food processing machine. Although based in China, they have 10 years of experience in exporting machines. By the end of 2021, they have provided equipment and solutions to customers from 106 countries. With its own factory, Taibo is capable to create exclusive machine and solution to every customer. Innovative and skillful engineers ensure quality and short delivery. What's more, different from other suppliers, Taibo has the ability to provide ODM and OEM services.
About the dough rounder:

Taibo designed and developed 2 types of dough rounder: conical dough rounder and compact dough rounder. Both of these dough rounders are appliable to a wide variety of doughs. In terms of dough weight range, the conical dough rounder is suitable for dough pieces of 20g to 1100g. The structure and material of the dough rounder ensure that it performs well with both low and high hydration. Furthermore, Taibo's dough balls making machines are all made of food grade SUS304 stainless steel,

AM Manufacturing Company

Location: 9200 Calumet Ave, Suite NW07 Munster, IN, 46321
Main Products:
•Dough Equipment
  •Dough rounder, dough divider
•Pizza Equipment
  •Pizza crust docker, pizza press, dough divider, dough rounder
•Tortilla Equipment
  •Tortilla production line, dough divider, dough rounder
•Bagel Equipment
   •Dough divider, bagel former
About the company:
AM Manufacturing has been leading and innovating for over 60 years, providing labor-saving machine to the dough and baking industry with equipment currently in operation worldwide. Their commitment to quality has been reflected by the responsiveness to customers and their specific needs.
About the dough rounder: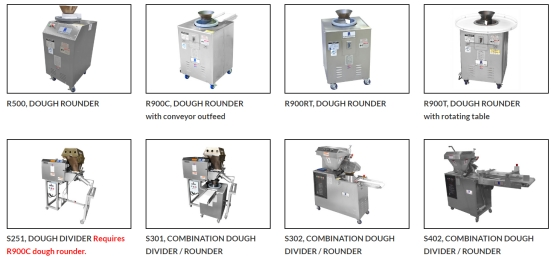 AM manufactures a large range of dough rounders. Some of them are independent and some are integrated with dough dividers or integrated into production lines. They are suitable for bakery products, pizza, tortilla, bagel and so on.

SOMERSET

Location: 137 Phoenix Ave, Lowell, MA, 01852, United States
Main Products:
•Dough roller, dough sheeter, dough divider, dough rounder, dough press, dough moulder.
About the company:
Since 1946, Somerset Industries has been designing and manufacturing professional grade bakery equipment for the foodservice industry. Their vision and goals remain focused on providing quality equipment and service that allows foodservice professionals to save money, significantly reduce repetitive tasks and increase production through innovation and design.
About the dough rounder:

SOMERSET develops 2 dough rounders. One is suitable for small shop and the other one is for heavy duty. Both of these 2 dough rounders are efficient, fast and compact. They are all perfect for pizza, tortilla, bread roll, roti, pita bread, chapati, etc.

BE&SCO Manufacturing

Location: 200 Lombrano St, San Antonio, TX 78207, United States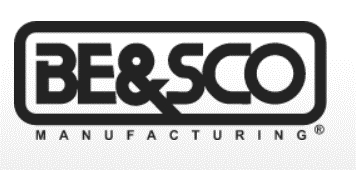 Main Products:
•Tortilla Flatbread Equipment
  •Press, grill, oven, conveyor, dough prep
•Tamale Equipment
  •Manual tamale machine, electric tamale machine
•Pizza Equipment
 •Press
About the company:
The BE&SCO Manufacturing name first appeared in 1965 when Elias and Robert Escamilla dedicated themselves to refurbishing and designing bakery equipment in San Antonio, Texas. Over the years the company continued to expand its product lines through research and development. Today, BE&SCO Manufacturing is proudly 3rd generation family-owned and is among the world's leading manufacturers of commercial flatbread equipment for the Restaurant and Food Service industries.
About the dough rounder:

BE&SCO's dough divider rounder is ideal for tortilla, chapati, roti, naan, thepla, lavash, yufka, shawarma, piadina and more. Just like other dough rounders, it is automatic and requires one person operation and

Conclusion
The bakery market is growing rapidly globally. For entrepreneurs who are looking to establish their business in the United States, finding a supplier for the dough rounder and other bakery equipment is important. Be sure to check and investigate the manufacturers carefully before purchasing. After all, the right baking equipment manufacturer will help boost your brand.
If you're looking for more about dough balls rounder and bakery equipment, check out the following articles:
●What Can Dough Divider Rounder Do?
●2022: Best 5 Bakery Equipment Suppliers in USA
●The Most Comprehensive Purchasing Guide to Dough Dividers in 2022